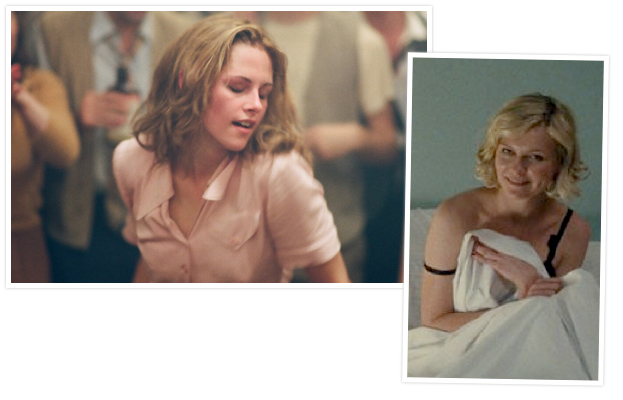 InStyle
On the Road's costume designer Danny Glicker created the Beat Generation-inspired wardrobe for stars Kristen Stewart and Kirsten Dunst meticulously—down to the very last detail, including the not-seen underwear.
"I've never worked more closely with a costume designer,"
Stewart told InStyle.com at InStyle's pop-up photo studio at the Windsor Arms Hotel during the Toronto International Film Festival.
"He is so caring and specific about details. Even with an article of clothing like an undergarment, he's like 'Do you feel pretty?' Do you like it? Do you like the bra, do you like the socks, do you like the snaps holding them up?' He fuses you into it and allows you to sort of feel a little responsible, sort of involved."
Glicker's process of combining found and handmade clothing from the late 1940s was one Dunst loved, too. "We had high-waisted underwear and bras with a pointed shape—you can tell because of the way your breasts look in the shirts is a more pointed silhouette," she said, noting that it helped her transform into her retro character. "I love doing period films. Modern clothing for a film is not as exciting." Catch a glimpse of what they mean by watching the trailer and click through the gallery for more inside scoop from TIFF.
ENJOY.. Miko XD
GOD bless you